Welcome to AMPpay
swift, anonymous and secure payment over the Internet!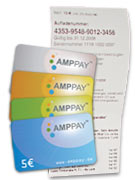 It's so swift, easy and effective as the Internet. Redeeming in real-time: e-money on the Internet – now available using AMPpay.
AMPpay an innovative system for Internet- and mobile-services working without credit cards and virtual identities — through the well-proven prepaid mechanisms known to cellphone users.
You buy a voucher that can be redeemed online. Neither your credit card data nor any personal details are required for these transactions and you are in full control over the costs!
Why using AMPpay?
AMPpay provides a simple, swift, anonymous and secure means for payments over the Internet
"Anonymous, simple and secure! No credit card information, no direct debit, no new virtual identity required … "as it should be on the Internet"
Matthias Stauch, chairman of the board of management INTERVISTA AG.
Simple

AMPpay™ vouchers are available through a multitude of points of sale from 5€ through 50€.

Universal

An AMPpay voucher may be redeemed through any AMPpay™- partner without extra costs.

Secure

It is not required to reveal any credit card details, bank accounts or personal information.

Straightforward

In contrast to most other payment methods AMPpay™ does not require additional virtual identities or a bank account.